The Woman with Multiple Streams of Income: Why It's the Best Way to Create Stability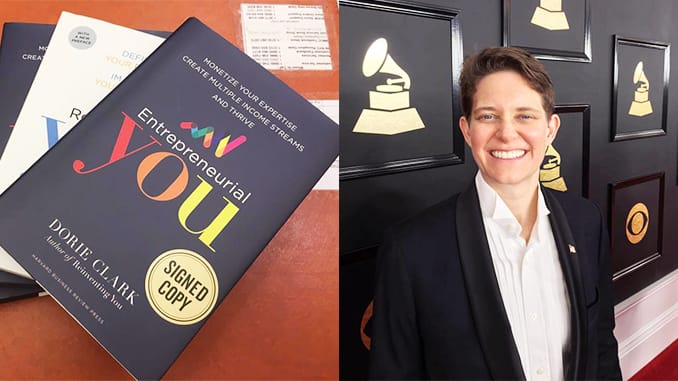 You might've experienced the blind panic of not knowing how you'll make your next mortgage or rent payment after being fired. Dorie Clark feels your pain. After getting laid off from her first ever job, she set out on a mission to never rely on a single income again. Over time, she's made a stable lifestyle for herself by creating seven streams of income. We think she might just be the ultimate entrepreneur.
"I Got Laid Off – Effective Immediately"
According to Business Insider, Dorie Clark's story starts in 2001. At the time, she was working as a political reporter, which was her first job out of grad school. Then, one day, the director of human resources calls her into his office. "I thought perhaps they were changing our dental plan," Clark writes in her new book, Entrepreneurial You. "Instead, I got laid off – effective immediately."
Fast forward to today. Clark is now a marketing strategist, a professor of business administration at Duke's University's Fuqua School of Business, and the author of a number of books.
Why You Need to Diversify Your Income
Speaking recently on an episode of The Art of Charm podcast, Clark explains why diversifying your income is the best way to avoid the fate of getting fired – just like she did in 2001.
Clark says, "Everybody knows if you have money, you shouldn't invest it all in one stock. Everybody knows that's a bad idea. You need to diversify there.
"But for our jobs, for how we make money, I think many of us — most of us — have one way we make money. It can be very risky. I've really come to believe, and have done a lot of research over the years, that one of the best ways that we can create real, legitimate professional stability for ourselves is by choosing to cultivate multiple income streams.
"That's certainly true for entrepreneurs. But, even for people who work inside a company, cultivating a side income stream of some sort — whether it's having an Etsy store on the side, or doing a little bit of coaching or having a workshop now and then, whatever it is, doing a little bit of paid speaking — having that sideline gives you additional protection against uncertainty and also has a lot of other benefits.
"Frankly it helps you build your skills; it helps you develop your brand."
Be Like Da Vinci
In Entrepreneurial You, Clark writes that she earns her living from seven streams of income – an impressive sounding feat. Clarks makes money from writing books, speaking, teaching at a business school, consulting, executive coaching, running online courses, and generating income from affiliate marketing using her email list.
On the podcast, Clark went on to share the story of Lenny Achan. He's a former nurse who was developing apps on the side. Achan began his career at Mount Sinai Hospital in New York City. One day, his boss found out about his app development side-gig and gave him the chance to manage to the hospital's social media accounts.
Achan accepted the opportunity. In fact, he did such a great job that he quickly became the head of communications at Mount Sinai.
Leonardo da Vinci is also another fantastic example of a "wide achiever", according to Roman Krznaric, author of How to Find Fulfilling Work. Da Vinci spent his time alternating between portraitist, inventor, and scientist. Considering today's unpredictable job security, Krznaric says that spending your time working different jobs, like Da Vinci, is a smart thing to do.
In Clark's book, she quotes former Google employee, career coach, and author of Pivot, Jenny Blake. Blake says, when she first started to build her speaking business she relied on one-to-one coaching sessions to provide "bridge income". Despite speaking being her passion, she wasn't making enough to supplement her income. Instead, her coaching income bridged the gap between her two career phases.
Feeling inspired to create a new stream of income? Check out 7 Money-Making Side Hustles You Can Start in 2018.